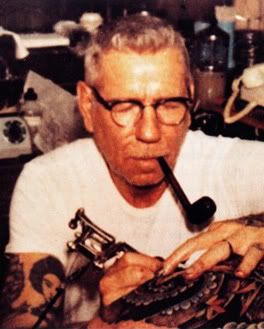 Since I've become a sailboat owner and lover, I've begun to notice things that I didn't before. I've started to notice anything that has a theme of boating or tropical living. Therefore, about a year ago when I walked into the local liquor store to buy a bottle of wine, a particular bottle of rum caught my eye. The label had a hula girl on it, and the name of the rum was "Sailor Jerry". I decided to purchase a bottle and give it a try. Every sailor needs to be an experienced rum drinker, right?
I enjoyed the rum, and have often wondered how the name "Sailor Jerry" came about, and if there was a story behind it. I recently found out that there is not only a story behind the name of the rum, but there's a legend behind it. It turns out that "Sailor Jerry" was a real person that is well-known to the tattoo industry. It is said that Norman Collin, aka Sailor Jerry, is the father of old-school tattooing and he has inspired many tattoo artists for decades.
Sailor Jerry was born in 1911, and at the age of 19 he was hopping freight trains and creating tattoos by hand across the country. Jerry wound up in the city of Chicago and joined the Naval Academy. It was during his time in the academy that he crossed the globe on schooner ships and began a love for the Asian culture. After leaving the academy, Jerry settled in the tropics of Oahu where millions of sailors would cross his path.
Jerry opened up his own tattoo shop in Honolulu over 40 years ago, and it's still open for business today!

Set in Chinatown, "Sailor Jerry's" became popular among the sailors and soldiers that were stationed in the area during World War II. With their carefree attitude, these men wanted to get tattooed! Sailor Jerry used his experience on the seas and his love of the Far East, and blended it with the West to create a whole new style of art work.

Sailor Jerry passed away in 1973, leaving instructions with his wife to either pass the tattoo shop and all of his artwork to one of his three proteges, or burn it to the ground! Luckily one of his proteges, Mike Malone, was interested in taking over the business and purchased it from Jerry's wife.
About 11 years ago,
"Sailor Jerry"
rum was created. Based on a seafaring recipe, this spiced rum has been enjoyed in the United States and recently became available in Sweden. In the very near future it will be available in Australia, South Africa, Germany and many other ports of call.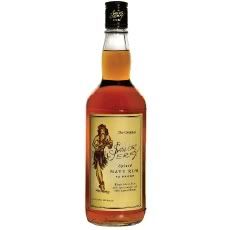 As mentioned earlier, Sailor Jerry was born in 1911. This past January 14th was his 101st birthday, and last year "Sailor Jerry" rum sold three limited edition bottles of rum to honor the legend's 100th birthday.
Who knew there was such a great story behind this rum? Sailing, tattoos and a man who did things his own way!